Pas moins de sept clips aujourd'hui ! Le label Captured Tracks regorge d'actus, Summer Camp continue dans le kitsch et Memoryhouse se la joue romantique.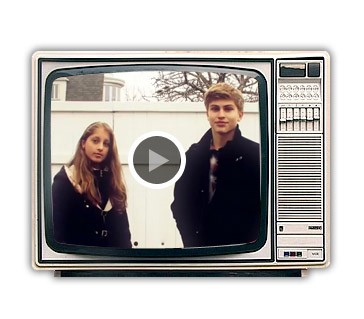 Summer Camp – Losing My Mind
Ceux qui aiment les chats, les photos ultra-méga kitsch et les pulls rouges seront ravis. Voilà ce que nous offre Summer Camp sur leur titre Losing My Mind.
Revolver – Wind Song
Tubesque, le clip de Wind Song rappelle un peu celui de Metronomy The Bay : mer, jolie fille, tout ça au ralenti.
Thieves Like Us – Stay Blue
Un album à surveiller qui va sortir ce mois-ci : Bleed Bleed Bleed. Thieves Like Us a sorti le clip de Stay Blue. Ce groupe signé sur le label Captured Tracks a toute mon attention avec ce clip cinématographique.
Memoryhouse – The Kids Were Wrong
Bien que l'album de Memoryhouse soit ennuyant sur la longueur, il n'est pas difficile de succomber à la voix de la chanteuse…
Mac DeMarco – She's Really All I Need
Mac DeMarco le rockmantique, récemment signé chez Captured Tracks, sortira son premier album Rock And Roll Night Club le 20 mars prochain. En attendant, il montre le bout de son nez où il fait le con dans le clip de She's Really All I Need, qui sera présent sur l'album.
Beach Fossils – Shallow
Encore un groupe de Captured Tracks (quelle année à venir pour le label de Brooklyn !). Beach Fossils a mixé plusieurs images et en a fait une sorte de best-of. Titre toujours aussi efficace. Après le clip de Mac DeMarco, on peut dire qu'on doit bien s'amuser chez Captured Tracks.
Carbon Airways – Corridor
Un troisième EP, Oxydizer, est sorti hier, et les adolescents viennent de mettre en ligne le clip du titre Corridor. Les clips, qui semblent toujours fait mains, sont toujours aussi énergiques.
A voir aussi en ce moment, le clip interactif (c'est toi qui prend les commandes de l'histoire) de Chairlift.
Une préférence ? J'aime bien le côté guimauve du clip de Memoryhouse et l'esprit déjanté de celui de Mac DeMarco.
Ecrit par Pinkfrenetik
clique là, tu vas aimer !
« Beach House de retour avec Myth Bedroom : cousin de Youth Lagoon »