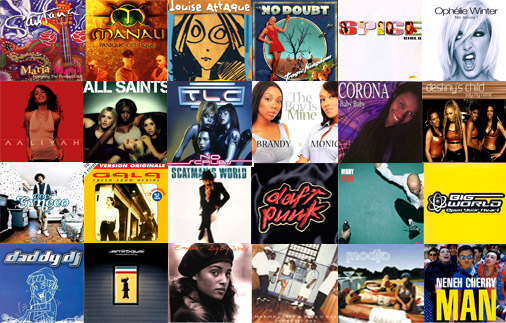 Pendant l'adolescence, je ne m'intéressais pas à la musique de la même manière qu'aujourd'hui.
Depuis quelques années (précisément 2004 avec la découverte de Jeanne Cherhal) je suis curieux.
J'essaie de ne plus être un auditeur passif mais actif.
Quand je découvre un artiste, je me mets à explorer son univers musical, ses influences, sa « famille d'artistes ».
Je fais aussi beaucoup de concerts, ce qui multiplie les découvertes. Il faut dire que vivre à Paris est une chance. Voir Benjamin Biolay, Charlotte Gainsbourg, Beach House et The Temper Trap dans le même mois, c'est kiffant !
Alors oui, internet a aussi beaucoup aidé. Le P2P, les blogs, les sites de streaming ont permis d'étoffer ma culture musicale.

A la fin des années 1990, vers l'âge de 12/13 ans, j'écoutais surtout ce que Fun Radio, NRJ et M6 me proposaient.
Chaque samedi, je regardais Hit Machine et Fan De et chaque mois j'achetais Star Club.
La musique que j'absorbais n'était sans doute pas de grande qualité, mais elle me laisse tout de même de beaux souvenirs !
Si comme moi, vous êtes nés en 1986 (ou pas loin), on a du entendre les mêmes chansons ; celles qui caracolaient dans les hits ou que nous avons achetées en single à 20 Frs.
Ce sont pour la plupart des artistes oubliés aujourd'hui, mais qui ont le mérite de nous replonger dans nos booms de notre l'adolescence.
Avec les singles que j'ai dans un carton dans la maison de mes parents et quelques souvenirs, j'ai créé une playlist Spotify Teenage Revival (bon si le terme n'est pas correct, tant pis, vous comprenez le sens).
Une sorte de compilation des musiques qui ont traversé mon adolescence et peut-être la vôtre…
Tracklist :
Aaliyah – Try again
Ace of Base – All that she wants
Alain Bashung – Ma petit entreprise
Alain Souchon – Le baiser
All Saints – Never Ever
Alliance Ethnik – Simple et Funky
Aqua – My oh my
Big World – Open your heart
Cher – Believe
Christina Aguilera – Genie in a bottle
Coolio – Gangsta's Paradise
Corona – Baby baby
Daddy DJ – Daddy DJ
Daft Punk – Around the world
Daniel Bedingfield – Gotta get thru this
Des'ree – Life
Destiny's Child – Say my name
Doc Gynéco – Viens voir le docteur
Emilia – Big big world
Etienne Daho – Le premier jour du reste de ta vie
Gala – Free from desire
I Am – Je danse le MIA
Jamiroquai – Virtual insanity
Janet Jackson – Together again
Lene Marlin – Sitting down here
Les innocents – Colore
Louise Attaque – Ton invitation
Madonna – Ray of light
Manau – La tribu de Dana
Mariah Carey feat. Boys 2 men – One sweet day
Matt – R'n'B 2 rue
Moby – Porcelain
Modjo – Lady
Neneh Cherry & Youssou'n'dour – 7 seconds
No doubt – Don't speak
Nuttea – Elle te rend dingue
Ophélie Winter – Shame on U
Pow Wow – Le chat
S.O.A.P. – This is how we party
Saez – Jeune et con
Santana – Maria Maria
Savage Garden – Truly Madly Deeply
Scatman John – Scatman
Shania Twain – Man! I feel like a woman
Spice Girls – Spice up your life
Stardust – Music sounds better with you
Suprême NTM – Ma Benz
Texas – Summer son
The Offspring – Why don't you get job?
TLC – No Scrubs
Brandy & Monica – The boy is mine
Zazie – Zen
clique là, tu vas aimer !