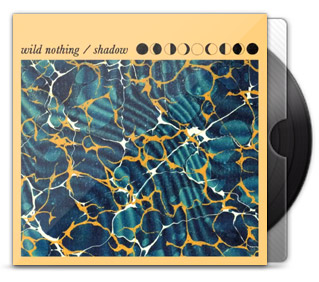 Mes chouchous de 2010, Wild Nothing, viennent de dévoiler la tracklist de leur deuxième album, Nocturne, à paraître le 27 août. Le premier single Shadow, (à ne pas confondre avec Shallow, le single de leurs collègues Beach Fossils) vient d'être mis en ligne. On reste dans une ambiance dream pop, mais avec une voix plus élégante et des mélodies (merci les cordes ?) plus classes.
Voici la liste complète des titres de Nocturne.
01 – Shadow
02 – Midnight Song
03 – Nocturne
04 – Through the Glass
05 – Only Heather
06 – This Chain Won't Break
07 – Disappear Always
08 – Paradise
09 – Counting Days
10 – The Blue Dress
11 – Rheya
Un album qui ne contiendra donc pas leur single Nowhere, sorti en janvier dernier, en duo avec la chanteuse de Twin Sister.
Ecrit par Pinkfrenetik
clique là, tu vas aimer !
« La page d'accueil évolue [CLIP] Passion Pit – Take A Walk »