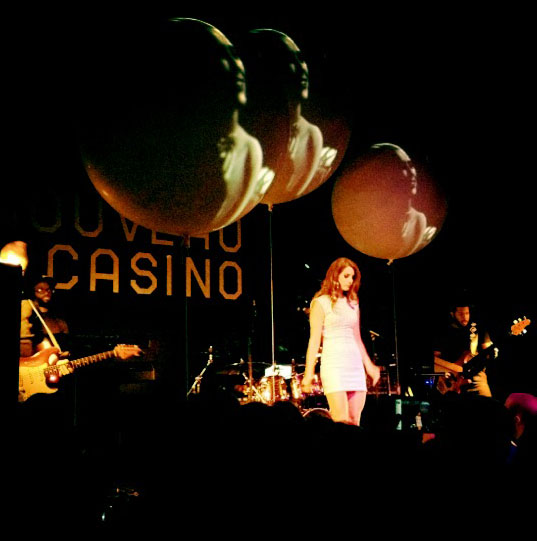 Lana Del Rey a donné hier au, Nouveau Casino son tout premier concert en France. Très attendue (trop ?),  la Gangsta Nancy Sinatra ne m'a pas déçu. Elle a interprété 9 chansons, mêlant ses (déjà) tubes Blue Jeans ou Video Games et quelques inédits. Par contre, rien de son premier album, sous le nom de Lizzie Grant. Comme-ci la miss démarrait tout juste sa carrière.
Trois grands ballons projetaient simultanément les fameuses vidéos vintages présentes dans ces clips, donnant l'impression que la chanteuse se cachait derrière celles-ci. Vocalement, elle n'a de leçons à recevoir de personne, couvrant plusieurs tonalités sans peine. Sur scène, son physique et sa manière de bouger, presque embarrassante, sont touchants. A peine 25 ans, Lana Del Rey doit avoir peu de concerts à son actif, mais l'aperçu d'hier lui présage un bel avenir. Son album sortira en 2012, je serai au garde à vous.
La setlist :
– Without You
– Born to die
– Blue Jeans
– Radio
– China Doll
– Million Dollar Man
– Video Games
– You can be the boss
– Off to the race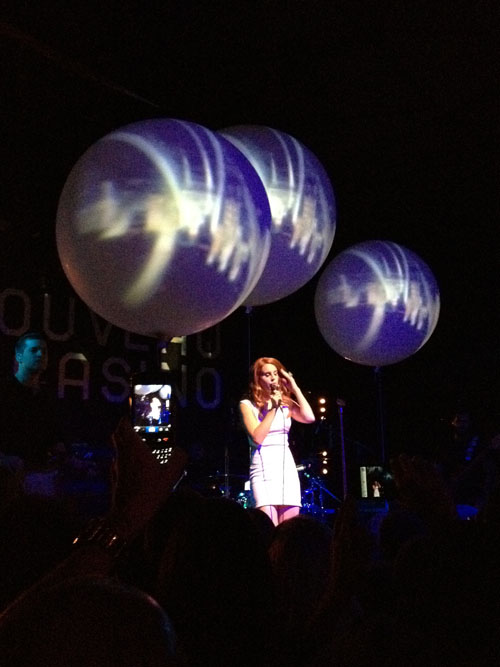 PS : Dans la salle on pouvait apercevoir Jeanne Cherhal, qui a trouvé ce concert, bref, mais intense :)
clique là, tu vas aimer !
« Porcelain Raft : premier album le 24 janvier Summer Camp : Welcome to Condale »