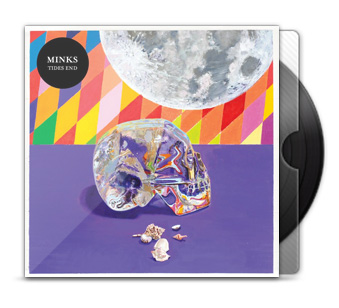 Joie ! Minks donne enfin signe de vie, deux ans après avoir sorti son premier album, By The Edge. L'album était un grand foutoir, où le rock flirtait avec la mélancolie, le gothique et le psyché. Les chansons avaient une allure désabusée, mais force est de constater que même deux ans après, l'album a laissé de belles empreintes, pour ma part.
Aujourd'hui ils reviennent déjà avec une pochette plus colorée. Pop, éclatante, on se croirait dans une version remix du dernier album d'Hot Chip. Arf, espérons que le contenu soit meilleur…
Minks dévoile deux singles Everything's Fine et Painted Indian au son plutôt surprenant par rapport à By The Edge. Les mélodies sont plus claires, moins souillées, on se demande d'ailleurs si c'est toujours le même groupe qui est derrière…
Le deuxième album, Tides End sortira le 6 août.
clique là, tu vas aimer !
« [CLIP] Pendentif – Embrasse Moi Florian Mona – Les héroïnes »