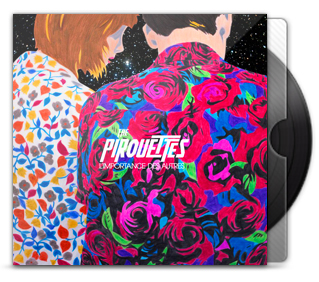 The Pirouettes a dévoilé il y'a quelques jours la pochette de son prochain EP, « L'importance des autres« . Galactique, colorée, magique et feutrée, elle présentera sept nouveaux titres du duo dont un remix. Ceux qui les ont déjà vu sur scène, en savent un peu plus au sujet de Robocop, Le dernier métro (Marcia Baïla powaa !) ou encore Un mec en or.
1. Un Mec En Or
2. Dernier Métro
3. Robocop
4. Briller Comme Des Étoiles
5. Oublie Moi
6. Chanter Sous Les Cocotiers
7. Dernier Métro (Island Kizhi Remix)
Aujourd'hui, c'est le titre Oublie moi qu'ils nous proposent, bien que l'on ne soit pas prêt de les zappeur. Un titre que l'on écoute avec la même mélancolie qu'Hortensia Summer.
The Pirouettes sera au Point Ephémère le 15 janvier avec Petit Fantôme et Marc Desse pour la soirée Tombé pour la France.
clique là, tu vas aimer !
« Top Films 2013 Playlist #33 : Roosevelt, Juniore, Rhye, The Radio Dept., etc. »