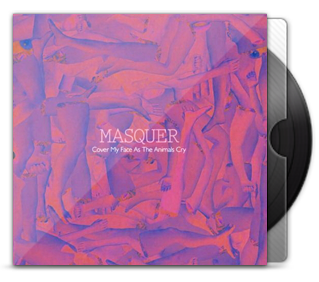 Ce qui m'a interpellé la première fois où j'ai entendu un titre de Masquer, c'est la voix. Cette voix, c'est celle de Kicki Halmos, chanteuse du groupe qu'elle a créé avec Pelle Lundqvist. On pourrait aussi parler de cette jolie pochette.
Pas de batterie ici, mais une boite à rythme. L'amour du duo Suédois pour le groupe The Cure se ressent dans les sons métalliques et assez dark, mais les plus connaisseurs auront remarqués que le nom de l'album est tiré des paroles du titre The Hanging Garden, du groupe de Robert Smith.
On pense à The XX, notamment sur A Crush, où la boite à rythme résonne derrière la voix éraillée de la chanteuse. Pas difficile d'être envouté par le premier single Happiness, très entrainant.
L'album est accessible, et les titres s'enchainent à allure décoiffante. Mes coups de coeurs vont à Be Gone, où la voix (oui je l'aime cette voix) de Kicki Halmos prend encore plus d'ampleur et me touche. Je l'avais publié dans la playlist #15 Juillet 2012.
Mais aussi There was the smell of grease qui clôt l'album, et laisse plus de place aux synthés.
Le groupe sera en concert le 18 septembre au Café de la Danse, il y'a de grande chance pour que je sois sur place !
clique là, tu vas aimer !