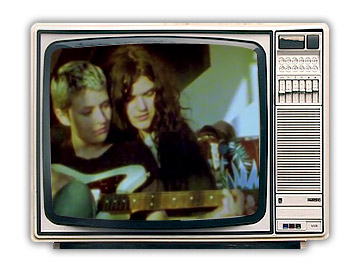 Cinq clips cette semaine. Soko se la joue homo, Hot Chip toujours aussi déjanté, Chromatics publie le clip du meilleur titre de Kill for love, Diiv expérimente et Novella retourne dans le passé.
Soko – We Might Be Dead By Tomorrow
Soko continue sur sa lancée avec un clip aux images cradingues mais romantiques. Elle se la joue homo, tout en se convaincant de vivre à fond avant de mourir.
Novella – He's My Morning
Les trois nanas de Novella commencent enfin la promo de leur EP avec He's My Morning. Flirtant du côté de Tamaryn, le trio offre un titre très dansant.
Chromatics – These streets will never look the same
Je suis partagé sur le dernier album de Chromatics, Kill for love. Autant j'adore certaines chansons, autant d'autres me laissent indifférent. Mais je dois avouer que l'album s'écoute au moins pour le titre fleuve These streets will never look the same. Tout ce que j'aime en ce moment.
Diiv – How Long Have You Known ?
Diiv est un pur produit issu du label Captured Tracks. C'est le projet du guitariste de Beach Fossils, Zachary Cole Smith. Mélodies pop, son lo-fi, touche de romantisme, tout ce qui fait le succès des groupes du label en fait. Leur album, Oshin, sortira le 25 juin.
Hot Chip – Night and Day
Le groupe d'électropop Londonien qui sera de passage à Paris début juillet à l'occasion du Days Off (avec Breton en première partie) publie un clip à son image : déjanté.
clique là, tu vas aimer !