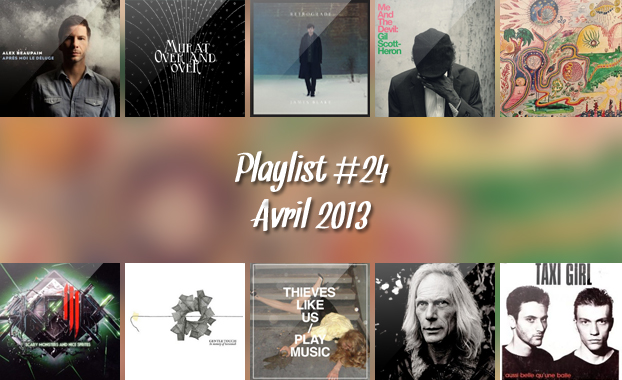 1. Alex Beaupain – Après le déluge
Alex Beaupain ne change pas tellement une recette qui gagne, mais tant pis. Il semble avoir un œil sur nos histoires d'amour, et les transforme parfaitement en chanson.
2. Jean-Louis Murat – Over and over
Je ne connais pas trop le bonhomme, mais ce premier extrait de son nouvel album, Toboggan, est d'une telle sensualité ! Choeurs féminins, mélodie lascive, on se laisse bercer.
3. James Blake – Retrograde
James Blake, j'ai moyennement accroché à son premier album (excepté le bijou Limit to your love). Par contre, Retrograde, extrait de son prochain album est comme un aimant auquel on a du mal à se défaire.
4. Gil Scott-Heron – Me and the devil
C'est dans le dernier film de Jaoui et Bacri, Au bout du Conte, que j'ai entendu ce titre du regretté Gil Scott-Heron. Electrique et fiévreux.
5. Youth Lagoon – Mute
Ah Youth Lagoon ! De retour avec un album opposé à The Year of Hibernation, le jeune homme de l'Idaho a surpris.
6. Scary Monsters and Nice Sprites – Scary Monsters and Nice Sprites
Spring Breakers a été une grosse claque pour moi. On en prend plein les yeux, et les oreilles, notamment grâce à Skrillex, avec ce titre bipolaire.
7. Gentle Touch – Once you used to
Gentle Touch, je n'en sais pas trop encore sur eux. J'ai prévu d'en parler prochainement ici, tant leur album me plait…
8. Thieves Like Us – Drugs in my body
J'ai découvert en soirée ce titre de Thieves Like Us. A la fois groovy et electro, le titre se révèle très dansant.
9. The Popopopops – Hypnostise me
Le quator Rennais a sorti son premier album fin mars. Swell regorgent de multiples influences.
10. Taxi Girl – Aussi belle qu'une balle
Daniel Darc nous a quitté il y'a un mois, et je suis toujours aussi triste et inconsolable. Heureusement, une discographie à la hauteur de l'homme nous permet de découvrir des bijoux chaque jour.
Les anciennes playlists
Playlist #1 : Nicolas Comment, Le Prince Miiaou, The Strokes, Benjamin Biolay, etc.
Playlist #2 : Love inks, Wu Lyf, Charlotte Gainsbourg, Eileen, etc.
Playlist #3 : Chad Valley, Jacno, Tamaryn, Miossec, etc.
Playlist #4 : La Femme, DyE, Still Corners, Baxter Dury, etc.
Playlist #5 : Boat Club, Anika, Petit Fantôme, Aaliyah, Barbara, etc.
Playlist #6 : Youth Lagoon, Frànçois & the Atlas Mountain, Warpaint, etc.
Playlist #7 : Daniel Darc, Pure X, Mozart Parties, I Break Horses, etc.
Playlist #8 : Seapony, Cracbooms, King Krule, Florent Marchet, etc.
Playlist #9 : Trailer Trash Tracys, Kurt Vile, Blouse, Lescop, etc.
Playlist #10 : Kindness, Da Silva, Porcelain Raft, Diagrams, etc.
Playlist #11 : Carbon Airways, The Radio Dept., Beach Fossils, etc.
Playlist #12 : Summer Heart, Beach House, Breton, Novella, etc.
Playlist #13 : Mensch, Urban Species, Barbara Carlotti, Mc Luvin, etc.
Playlist #14 : Summer Heart, All Cannibals, Casiokids, Novella, etc.
Playlist #15 : Masquer, Teen Daze, Twin Shadow, Diiv, etc.
Playlist #16 : The xx, Cat Power, Pendentif, Tame Impala, etc.
Playlist #17 : Tamaryn, Wild Nothing, Lou Doillon, Benjamin Biolay, etc.
Playlist #18 : Electric Youth, Yan Wagner, NTM, Weird Dreams, etc.
Playlist #19 : Saint Lou Lou, Melody's Echo Chamber, Night Works, 1995, etc.
Playlist #20 : Young Dreams, Crystal Castles, AlunaGeorges, Lauryn Hill, etc.
Playlist #21 : Local Natives, 1995, Beacon, Earl Sweatchirt, etc.
Playlist #22 : Justin Timberlake, Inc., Babx, Toro Y Moi, etc.
Playlist #23 : Millionyoung, Alpine Decline, Maissiat, Girls Names, etc.
(Visited 33 times, 1 visits today)
Alex Beaupain Gentle Touch Gil Scott-Heron James Blake Jean-Louis Murat Skrillex taxi girl The Popopopops Thieves Like Us Youth Lagoon
Last modified: 10 avril 2013