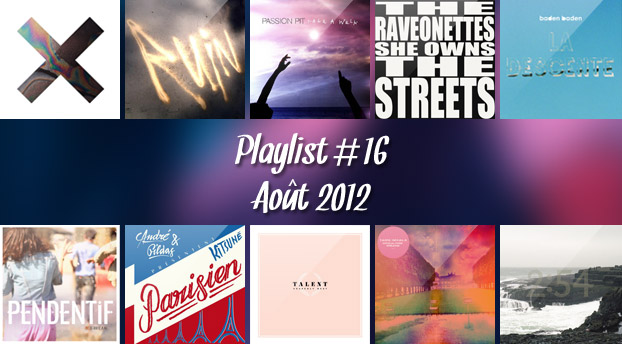 1. The XX – Angels
Premier extrait du deuxième album, Coexists, de The XX. Pari réussi ou pas ? Je trouve le morceau pas très dépaysant par rapport au premier album, mais toujours aussi envoutant. J'aurais l'occasion de découvrir la version live sur scène à La Route du Rock.
2. Cat Power – Ruins
A vrai dire, excepté The Greatest, je ne connais pas grand chose de Cat Power. A savoir juste qu'elle semble lâcher sa guitare aux accents folk, et se dirige vers un son plus électrique.
3. Passion Pit – Take A Walk
Passion Pit revient avec un second album, Gossamer, toujours gonflé à l'hélium. On frise l'overdose, mais certains titres, comme Take A Walk, donnent de l'énergie.
4. The Raveonettes – She Owns The Streets
Le duo Danois fêtent ses dix ans d'existence avec la sortie de l'album Observator. Voix plus claires, mais son toujours aussi addictif, The Raveonettes ont de belles années devant eux !
5. Baden Baden – La Descente
Le quatuor français s'apprête à sortir son premier album Coline à l'automne. En voici le premier extrait, La Descente.
6. Pendentif – Jerricane
Les Bordelais de Pendentif continuent leur balade pop ensoleillée et crient leur amour cette fois au Jerricane !
7. Exotica – Desorbité
Encore un groupe Français. Exotica pourrait être les enfants d'Elli et Jacno. Désorbitée a ce goût d'années 80's.
8. Heavenly Beat – Faithless
Celui qui vient de quitter Beach Fossils va se consacrer entièrement à son projet Heavenly Beat. Très bel album.
9. Tame Impala – Apocalypse Dreams
Rarement on entend des chansons aussi sautillantes. Apocalypse Dreams sortira son second album, Lonelism, en octobre.
10. 2:54 – Revolving
Deux sœurs proches du courant new-wave qui nous donnent envie de régler nos montres à 2h54 précises.
Si tu n'as pas Spotify

Les anciennes playlists:
Playlist #1 : Nicolas Comment, Le Prince Miiaou, The Strokes, Benjamin Biolay, etc.
Playlist #2 : Love inks, Wu Lyf, Charlotte Gainsbourg, Eileen, etc.
Playlist #3 : Chad Valley, Jacno, Tamaryn, Miossec, etc.
Playlist #4 : La Femme, DyE, Still Corners, Baxter Dury, etc.
Playlist #5 : Boat Club, Anika, Petit Fantôme, Aaliyah, Barbara, etc.
Playlist #6 : Youth Lagoon, Frànçois & the Atlas Mountain, Warpaint, etc.
Playlist #7 : Daniel Darc, Pure X, Mozart Parties, I Break Horses, etc.
Playlist #8 : Seapony, Cracbooms, King Krule, Florent Marchet, etc.
Playlist #9 : Trailer Trash Tracys, Kurt Vile, Blouse, Lescop, etc.
Playlist #10 : Kindness, Da Silva, Porcelain Raft, Diagrams, etc.
Playlist #11 : Carbon Airways, The Radio Dept., Beach Fossils, etc.
Playlist #12 : Summer Heart, Beach House, Breton, Novella, etc.
Playlist #13 : Mensch, Urban Species, Barbara Carlotti, Mc Luvin, etc.
Playlist #14 : Summer Heart, All Cannibals, Casiokids, Novella, etc.
Playlist #15 : Masquer, Teen Daze, Twin Shadow, Diiv, etc.
(Visited 9 times, 1 visits today)
2:54 Baden Baden Cat Power exotica Heavenly Beat Passion Pit Pendentif Playlist tame impala The Raveonettes The xx
Last modified: 12 septembre 2012