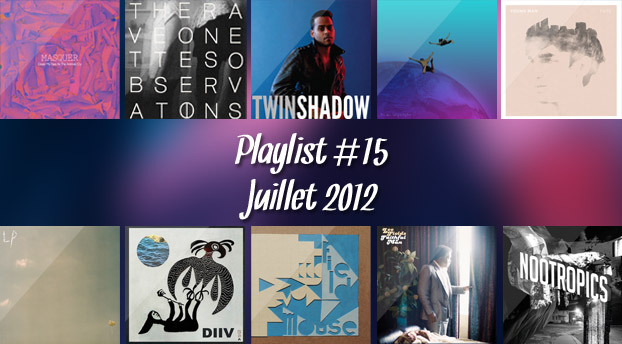 Après une playlist spéciale Rockorama, reprise des coups de cœur du moment.

1. Masquer – Be gone
Une voix pleine d'émotions, légèrement éraillée, des mélodies électro, ce titre donne envie d'en savoir plus sur l'album Cover my face as the animals cry de Masquer.
2. The Raveonettes – Observations
The Raveonettes va fêter ses dix ans avec la sortie d'un nouvel album studio : Observator. Le premier extrait Observations, montre que le duo Danois a encore de belles années devant lui.
3. Twin Shadow – Five seconds
Monsieur Paillette qui avait sorti un album fou en 2010, revient début juillet avec un nouvel album, Confess.
4. Teen Daze – Brooklyn suburb
Ce jeune Canadien, qui a probablement sorti la plus jolie pochette de ce début d'année, revient avec un album électro, instrumental, qui n'a pas de mal à envahir nos esprits. Je reviendrai très vite sur son album.
5. Young Man – Fate
Un peu déçu par l'album de Young Man, je craque tout de même sur ce titre Fate.
6. Lotus Plaza – Eveningness
Découvert dans l'émission radio Rockside, le projet parallèle d'un membre du groupe Deerhunter, s'appelle Lotus Plaza. A la manière de The War On Drugs l'an dernier, les mélodies n'en finissent plus de nous faire voyager.
7. Diiv – Human
L'un des derniers bébés de Captured Tracks vient de sortir Oshin. Véritable bijou de pop indé, le groupe est le projet d'un des membres de Beach Fossils.
8. Field Mouse – You guys are gonna wake up my mom
Un peu tombé par hasard sur ce titre (merci Spotify), ce titre rappelle Memoryhouse ou Still Corners. Bientôt un album ?
9. Lee Fields & The Expressions – Faitful man
Pas spécialement fan de black music, blues ou jazz, voilà un titre que j'écoute quand même beaucoup. Faithful man rappelle The Right To Love You de The Mighty Hannibal, extrait de la BO du film L'apollonide.
10. Lower Dens – Propagation
Le dernier album de Lower Dens est là pour sublimer vos rêves les plus sombres…
Si tu as Spotify

Si tu n'as pas Spotify

Les anciennes playlists :
Playlist #1 : Nicolas Comment, Le Prince Miiaou, The Strokes, Benjamin Biolay, etc.
Playlist #2 : Love inks, Wu Lyf, Charlotte Gainsbourg, Eileen, etc.
Playlist #3 : Chad Valley, Jacno, Tamaryn, Miossec, etc.
Playlist #4 : La Femme, DyE, Still Corners, Baxter Dury, etc.
Playlist #5 : Boat Club, Anika, Petit Fantôme, Aaliyah, Barbara, etc.
Playlist #6 : Youth Lagoon, Frànçois & the Atlas Mountain, Warpaint, etc.
Playlist #7 : Daniel Darc, Pure X, Mozart Parties, I Break Horses, etc.
Playlist #8 : Seapony, Cracbooms, King Krule, Florent Marchet, etc.
Playlist #9 : Trailer Trash Tracys, Kurt Vile, Blouse, Lescop, etc.
Playlist #10 : Kindness, Da Silva, Porcelain Raft, Diagrams, etc.
Playlist #11 : Carbon Airways, The Radio Dept., Beach Fossils, etc.
Playlist #12 : Summer Heart, Beach House, Breton, Novella, etc.
Playlist #13 : Mensch, Urban Species, Barbara Carlotti, Mc Luvin, etc.
Playlist #14 : Summer Heart, All Cannibals, Casiokids, Novella, etc.
(Visited 14 times, 1 visits today)
Diiv field mouse Lee Fields & The Expressions lotus plaza Lower Dens Masquer Playlist saint michel Teen Daze The Raveonettes Twin Shadow Young Man
Last modified: 12 septembre 2012